Ollis-Plumado House Built in 1859
Ollis-Plumado House Built in 1859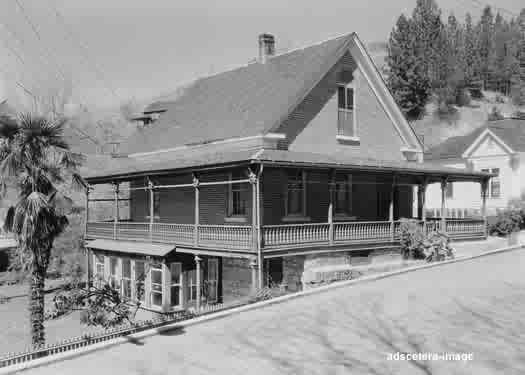 Mr. Plumado, age 64, with Madeline Jacox (1894)
History
The Ollis-Plumado House was built around 1859 on property that once held a gold stamp mill. Abraham Vedder is the first known owner of the property. Abraham Vedder sold the home in 1862 to Henry Ollis for $100. Mr. Ollis, who at one time, employed John "Wheelbarrow Johnny" Studebaker, before he began making wagons and later automobiles, also purchased the Hugh Hinds' blacksmith shop in 1858.
The old house is located at 2934 Bedford Avenue on a beautifully landscaped 3/4 acre lot just one block from Placerville's Historic Main Street. The house is built of brick and placerite stone. The lower story of the brick house is built below ground level because of the extensive mining and sluicing activity that took place there, having washed the soil away.The walls are 18 inches thick on this lower section, and made of handmade bricks produced in Placerville.
In 1874, Henry Ollis sold the home to the Plumado family for $600 in gold, and it remained in that family for 75 years. Francis Plumado, a native of Canada, later from Missouri, came to Placerville in 1852. The magnolia trees still growing along one side of the property were planted by the original Mrs. Plumado.
Before the days of indoor plumbing, a two-seater outhouse sat across the creek at the back end of the property. The foundation of the house is built on old tombstones that had mistakes and could not be used for their original purpose.
The Cottage, one of two extra buildings on the grounds, was originally a chicken coop and was later rebuilt as a home for a seamstress, known to everyone as Miss Jo.
Before Bedford Avenue was paved, it was lined with poplars and was lower than the current street level. What is now the main floor of the house with the parlor, dining room and kitchen, was once the second floor with two bedrooms. Later owners replaced the marble fireplace in the parlor with one built of stones that they had hand-picked in travels to various places.